Horseback Riding in Patagonia
The trip begins at Canoas Port, Lago Huechulafquen, 90km away (2 and a half hours) from downtown San Martin de los Andes.
The following day, after some instructions on what you need to know about horses, how to ride
and security tips for the trip, we will start riding towards the mountains and to our camping
site.
We begin the ride through a dense humid beach forest towards the southwest face of Lanin
Volcano, our partner for the rest of the trip, 3,747 metres above sea level (12,293 feet).
Narrow trails, old Mapuche´s paths used to get from valley to valley, will take us to untouched
and amazing landscapes of the Patagonian Andes and to the Chilean border.
Black volcanic formations, fresh water streams and lakes in Lanin National Park, will make you
feel like being in a painting.
Native Mapuche´s stories, friends and the most incredible landscapes are all you will have there…
When dinner is over, guitars will start playing as the campfire lights up the darkness of the night.
Long conversations will recreate the incredible day gone by. Some in the group will play cards while others listen to the ancient tales of local herdsmen; a few will even dare improvise some folklore dancing around the fire. This is how our nights go by. This is how your horseback ride will be.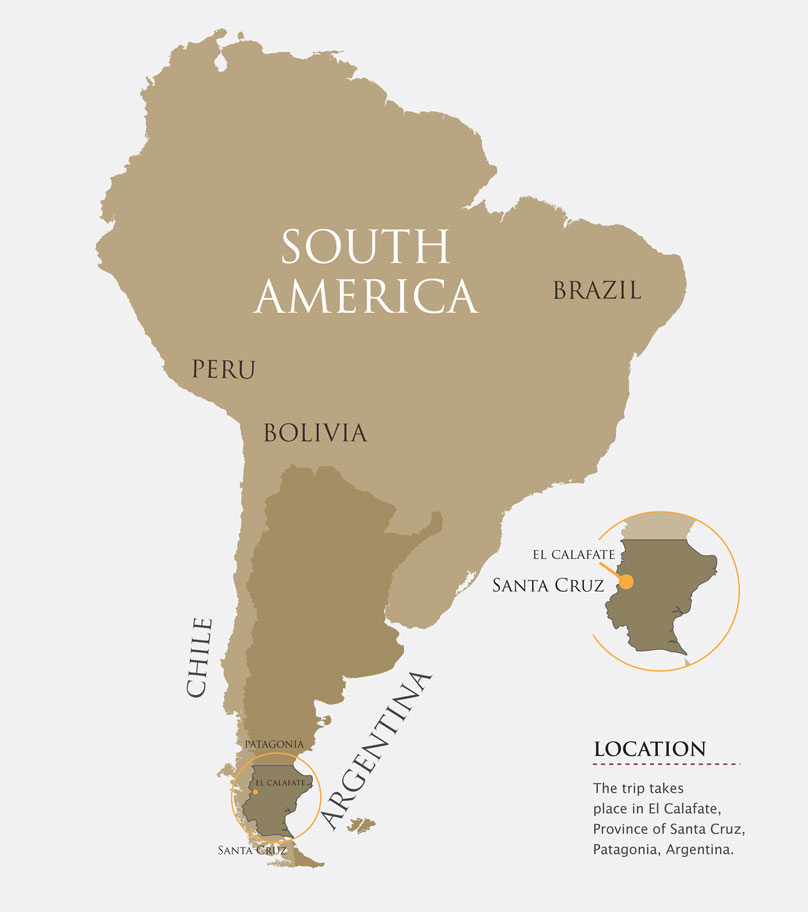 Trip details
| | |
| --- | --- |
| Trip duration: | 7 days, 6 nights |
| Activity: | Horseback riding |
| Riding hability: | Intermediate |
| Availability: | December- March |
| Horses: | Half-caste mountain horses |
| Acommodation: | Boutique hotel and camp |
Note: if you want to add an extension to this trip, either before or after, we will arrange it for you.
DAY 1
San Martín de los Andes
We will meet you at San Martín de los Andes City´s airport and transfer you to your boutique hotel.
Afterwards, the guide will provide you with saddle-bags and recommendations for the trip at a group
meeting. We will have a welcome dinner in a typical restaurant. Night at a boutique hotel.
DAY 2
Meeting our horses
We will have breakfast and then leave, early in the morning, to Huechulafquen Lake. Equipment preparation and designment of the horses. Once ready, we will start our ride through a wood road towards the forest.
We will ride uphill through a straightened and narrow path towards Barbecho Mountain 1,900 metres above sea level (6,233 feet), located in the south face of Lanin Volcano.
First camping night inside a magic forest.
Riding time: 5 hours.
DAY 3
Lanin National Park
Paths that cross araucarias and cañas colihue´s forests, will take us through the most virgin regions of Lanin National Park up to Paimún River shore.
This day we will ride to the Chilean border and then back to Paimun Lake. Second camping night at the Paimun Lake, in a black sand beach with crystalline water.
Riding time: 6 hours.
DAY 4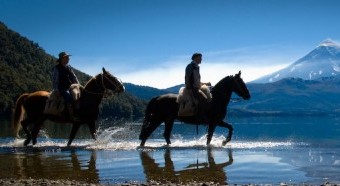 Paimun Lake
We will ride through not-frequently-traveled selvatic forests, surrounding Paimun Lake until it´s south end where we will stop for lunch. Afterwards, we will ride along a wider path to Paraje Aila, facing the Lanin ´s south face. This place receives the name of its first inhabitant.
Third camping night at Paraje Aila.
Riding time: 5 hours.
DAY 5
Swimming with the horses
We will ride along a wide path towards Huechulafquen Lake. We will have lunch at a beach and continue riding by this lake until Epulafquen Lake. A boat will carry our equipment while we cross the river by horse or by boat. After getting dried and saddled up, we will continue towards the place where we'll spend the night.
Fourth camping night at Lanin National Park.
Riding time: 5 hours.
DAY 6
Blue Bay
We will leave our equipment at the camp and start riding towards a blue bay. Breathtaking beaches of clear sand and blue water, with Lanin Volcano as background, make up the incredible landscape we wil enjoy during lunch.
At tea time, we will return to our camp and ride for an hour to a dried volcanic lava river. Transfer to your boutique hotel in San Martín de los Andes (2 hours) to spend the night after a farewell dinner in a typical restaurant.
Riding time: 5 hours.
DAY 7
Good bye Patagonia
Breakfast at the hotel. The morning is yours to enjoy the town at leisure and discover its corners.
Transfer to San Martín de los Andes City´s airport.
End of our services.

Transfer in/out Salta City ́s
All accomodations, land transfers and entrance fees.
Meals mentioned in the itinerary (7 B, 7 L and 7 D).
Fully equipped bike rental. Support vehicle.
English speaking host and guide.
Personal accidents insurance.
Satellite telephone for emergencies.
Laundry.
Meals not mentioned in itinerary.
Alcoholic drinks.
Gratuities or tips.
Domestic flights.
International flights.
Expenses due to your withdrawal from the program.
Most students create essays on their own however there are many benefits to hiring a professional essay writer to help you. These companies typically hire academic writers. They typically charge from $20 to $80 a page for up to five days or 16 hours of written work. They may also charge additional costs for writing the works referenced in essays. When you are considering hiring any the best essay essay writing services, make sure that you understand what you are getting into and the benefits when you hire an essay writing service.